The Story Behind The Book
Recently, I led the design of several digital products at WeWork. I interviewed dozens of designers and saw more than 100 portfolios at different levels of seniority. One of the main issues we had with candidates was their failure to understand the designer's role in the context of the business, and beyond aesthetics.
Design in Tech Report 2017 #1 observation is: "Design isn't just about beauty; it's about market relevance and meaningful results." In The Future of Design in Start-Ups 2017 Survey their #1 conclusion is that designers in technology start-ups need to be involved directly in the business side, understanding company strategy, the metrics for retention, engagement, conversion, and revenue models etc. I believe this is also true for businesses outside of the tech industry.
This is the mindset which most successful companies require their designers to have, although we're lacking the learning resources to practice it. Design schools, employers and overly visual-centric design communities aren't providing the appropriate tools to do so.
Last year, in an attempt to minimise this gap, I shared publicly the design exercises we used to interview designers at WeWork. The feedback I received was great. After talking to both designers and businesses, I decided to dedicate my time to writing this book. It is highly practical and will help designers to practice their skills, prepare for interviews, advance their career and add value to businesses.
I'm convinced that designers who learn how to help companies to solve business problems will enable us to build better products and, hopefully, solve the most urgent problems the world is facing today, making it more sustainable, healthy and equal.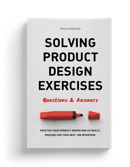 Solving Product Design Exercises
A highly practical book for preparing for design interviews and practicing digital design skills.