---
Receive a new design challenge each week
Prepare for your next job interview. Become familiar with the types of challenges and tests companies use to evaluate UX designers.
Practice your product & UX design skills. Step up your career and become a better designer by regularly working on your core design skills.
Improve your portfolio. Showcase our real challenges in your portfolio, rather than unsolicited visual redesigns.
Interview designers. Use our exercises to evaluate design candidates for your company or organization.
---
UX design challenges examples
Redesign the ATM.

81% of Americans want to write a book. In fact, 31% of all e-book sales in the Kindle Store are self-published e-books. Design a product for self-publishing a book on Amazon to help decrease the entry barrier to self-publishing.

Design a product for self-publishing a book on Amazon, decreasing the entry barrier to self-publishing.

Design a dashboard for a freelancer to manage, monitor, and plan their client work.

Millions of animals are currently in shelters and foster homes awaiting adoption. Design an experience that will connect people looking for a new pet with their ideal companion.

Provide a high-level flow and supporting wire frames to help adopters find a pet that matches their lifestyle, considering factors such as breed, gender, age, temperament, and health status.
Join 19,832 designers
who have already subscribed
Weekly and 100% free. Unsubscribe at any time.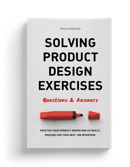 Unlock access to 30+ exercises now
Get the book with all design exercises, learn how to solve them and create your own challenges.
FAQ
What is a UX design challenge?

A design exercise is a design challenge which is used by companies to test interview candidates. Afterwards designers applying for a UX position are asked to present their solution. Such challenges can be used either for preparing for a job interview or just to practice your design skills.

How companies use these exercises?

Companies are normally using such challenges during interview for:

1) Live whiteboarding challenges — the candidate is asked to perform the exercise live with the interviewer, explaining their thinking and decisions while solving the task.
2) On-site exercises — the candidate is given about an hour to solve the problem while being in a comfortable, quiet space equipped with paper and pens. After an hour the candidate will present their solution with wireframes and sketches using a whiteboard.
3) Take-home exercises — the candidate must deliver a high-fidelity design within a defined deadline, usually four to eight hours.

What type of UX design challanges exist?

Building a new product (e.g. build a desktop app dashboard for a general practice doctor).
Change or improve an existing product (e.g. design a marketplace for freelancers which LinkedIn has decided to build as a part of their product).
Conceptual tasks (e.g. design an alarm clock for the blind).
Business metric-oriented tasks (e.g. improve Pinterest's retention).

How can I learn solving UX challenges?

I have a question. How can I contact you?